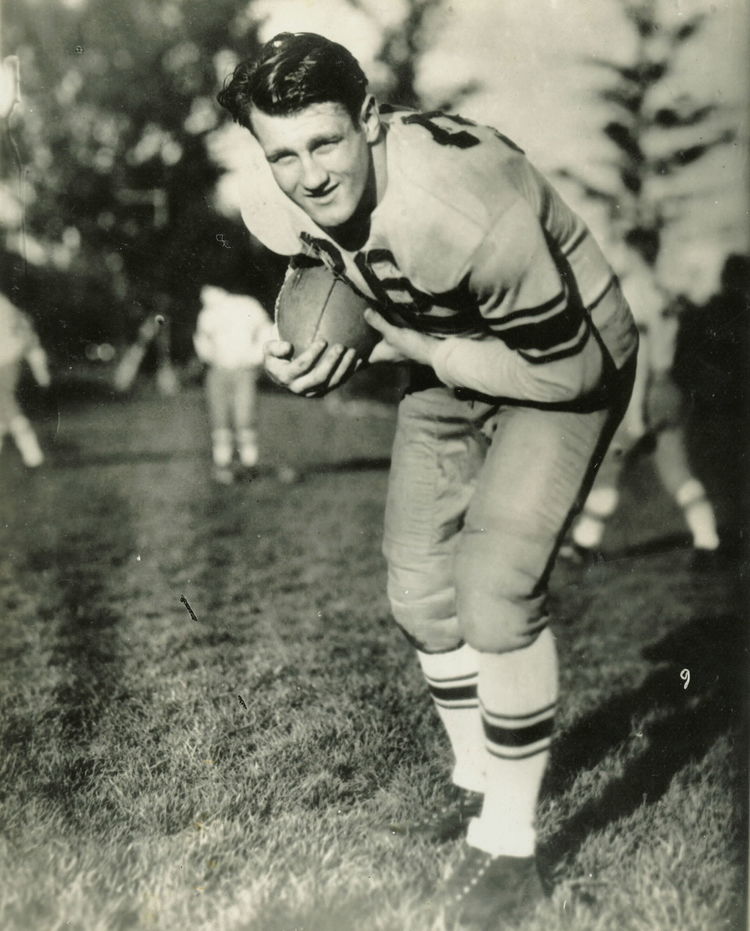 Born the oldest of four children in Rainy River, Ontario to Eastern European immigrant parents, Bronko spent his youth in International Falls, Minnesota, a border town. He assisted his father both at the general store in town and as a hand on the family farm.
Athletic from a young age, Bronko played both football and basketball in high school. His senior year he transferred to Bemidji High School in hopes of securing a college football scholarship, but was declared ineligible because of the transfer, so he played on their basketball team.
Nagurski played both tackle on defense and fullback on offense at the University of Minnesota from 1927 to 1929. In 1929, he was a consensus All-American at tackle and also named All-American at fullback. He is the only athlete to be named All-American at two positions in the same year.
Perhaps his greatest collegiate game was against Wisconsin in 1928. Wearing a corset to protect cracked vertebrae, he recovered a Badger fumble deep in their territory and then ran the ball six straight times to score the go-ahead touchdown. Later in the same game, he intercepted a pass to seal the victory. During his time with the Gophers, the team went 18-4-2 and won the Big Ten Conference championship in 1927.
Nagurski played professionally for the Chicago Bears from 1930 to 1937. At 6 feet 2 inches and 235 pounds, he would have been a formidable presence in any era of the NFL, and in his day he was a dominant force in the league, helping the Bears win several division titles and three NFL championships (1932, 1933, 1943).
A time-honored and perhaps apocryphal story about Nagurski is a scoring gallop that he made against the Washington Redskins, knocking two linebackers in opposite directions, stomping a defensive halfback and crushing a safety, then bouncing off the goalposts and Wrigley Field's brick wall. On returning to the huddle for the extra point try, he reportedly said: "That last guy hit me awfully hard."
In addition to his running skills, Bronko was also a devastating blocker. Behind Bronko's blocking, Beattie Feathers (48) was the first player to gain 1,000 yards in a season (1934).
Bronko said of his team mate, "Beattie had an uncanny knack for following a blocker and ran with his hand on my hip. Together, he gained a lot of yards."
During World War II, professional football teams were short of players and in 1943 Bronko Nagurski returned to the Bears for one season. He scored a touchdown in the Bears' championship victory against the Washington Redskins.
Bronko's Spikes
Nagurski's spikes are held in the archives of the Pro Football Hall of Fame, in Canton, Ohio. Photo Credit: Jeff Campagna