The United States Postal Service issued a stamp on August 8, 2003, honoring Bronko Nagurski as part of a series titled, "Early Football Heroes", which also includes Red Grange (Chicago Bears), Ernie Nevers (Duluth Eskimos & Chicago Cardinals), and Walter Camp (founder of American football). The official release was at the College Football Hall of Fame at South Bend, Indiana and a Special Issue was held at the Bronko Nagurski Museum in International Falls, Minnesota.
Bronko was inducted as a charter member to the Pro Football Hall of Fame in 1963.
In 2003, Thomas Dunne Books published Jim Dent's "Monster of the Midway" chronicling the Chicago Bears' legendary 1943 comeback season. Short of players due to WWII, the Bears called Bronko and his battered-frame out of retirement to lead the team to legendary victory against the Washington Redskins at Wrigley Field, a facility that looms large in Bronko's legend.
Nagurski tossed the coin at Super Bowl XVIII in Tampa, Florida, January 22, 1984. The Los Angeles Raiders defeated the Washington Redskins that year in a final score of 38-9.
The Nagurski legend looms large in sports mythology, living on in film (Hearts in Atlanis, 2001), TV (According to Jim, 2004), literature (Introduction to The Princess Bride, by William Goldman, 1973) and even poetry (Bronko Nagurski, By J. L. Huggins, 1937).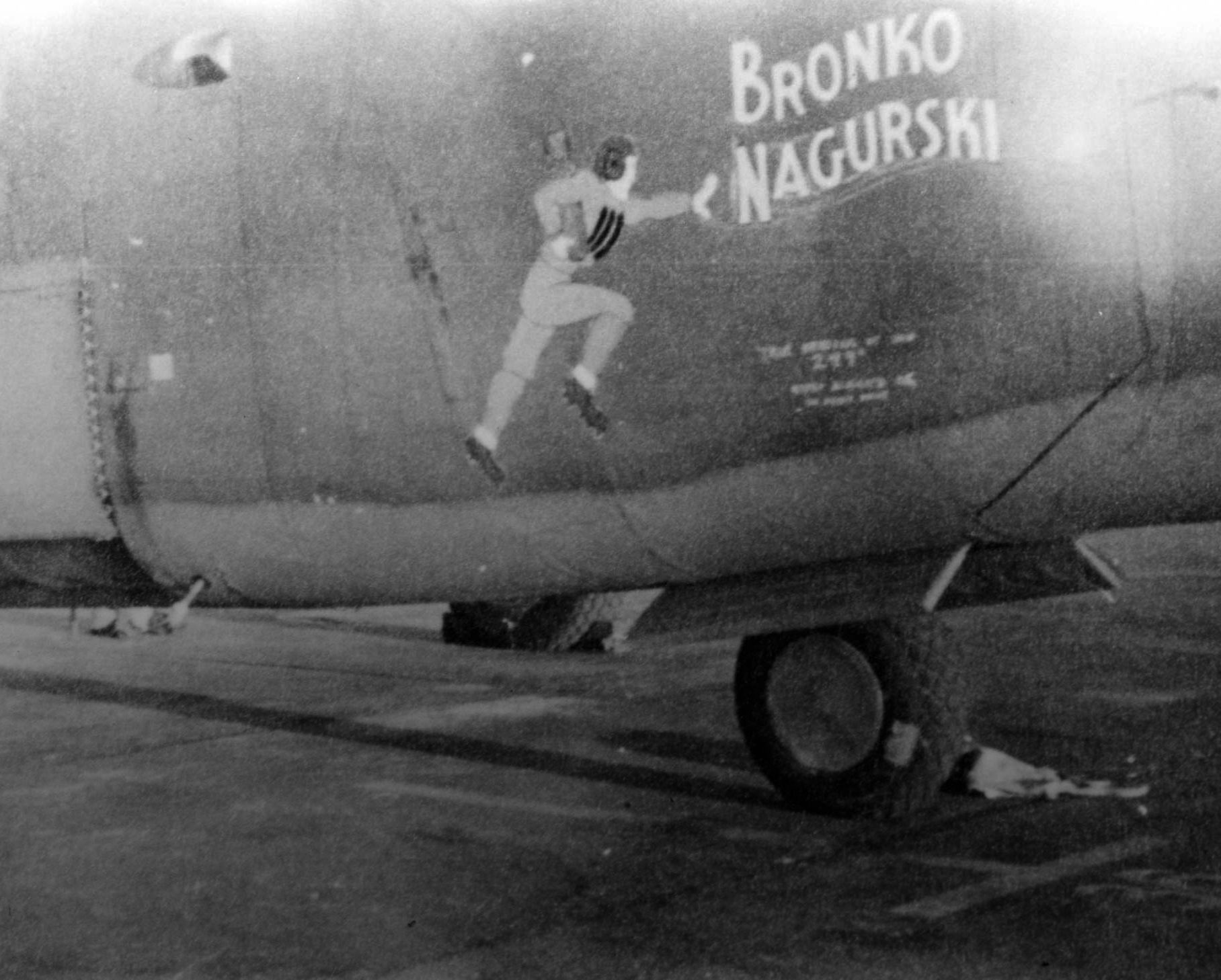 In February 1944, Lt. Fred E. Stone, a Minneapolis native, contacted Bronko through Cedric Adams, a Minneapolis Star Journal columnist, and requested permission to use his name and image as nose art on their new B-24 bomber.
The crew successfully navigated the approval process, christened the aircraft and in March it was ferried to England where it was prepared for combat. It's first bombing mission was on April 9, 1944.
May 11, 1944, it was taking off on its 11th mission with a full load of fuel and bombs when its nose wheel collapsed. Fortunately, all of the crew survived but the plane was damaged beyond repair and was retired from service.
Bronko Nagurski made a "guest appearance" on the ABC sitcom According to Jim, starring Jim Belushi, in 2004, in the episode titled, 'Plot Twist.'
Belushi's character contemplates his final resting place and whether or not it should be next to his family, or his legendary sports hero. (Image: ABC)